This is a collection of things to do in Sydney.
VIVID
Date: May 24-June 15th
What is VIVID?
A festival of light, music and ideas.
The "light walk" stretches for 2km, covering the harbour foreshore, The Rocks, the Sydney Opera House and Royal Botanic Gardens. This is a night event and will be on during our cruise in Sydney Harbour on Thursday May 30th and should make the cruise extra special.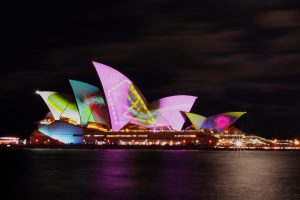 During VIVID you will see iconic Australian landmarks, like the Opera House pictured above, lit up with projections.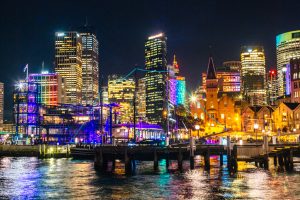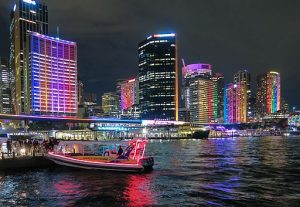 AFL, Australian Football League
Date: June 1st (Saturday after the conference) @ Spotless Stadium 1:45pm
GWS vs. Gold Coast Suns
There is a group planning on going and we will purchase the tickets in March (tickets range from AU$30-36). If you are interested in attending and want to sit with the group, please us know via the #socialstuff channel on the IASSIST Slack so we can get you a ticket. Don't worry about reimbursement for your ticket until IASSIST.
Alternatively, you can purchase your own ticket here: http://www.ticketmaster.com.au/gws-giants-v-gold-coast-suns-olympic-park-01-06-2019/event/1300564E9D4F5A18.
Bondi to Coogee walk
6km (one way) walk along the beautiful coast.